An observational study on targeted therapy for patients with  unresectable or metastatic BRAF V600E mutant Melanoma: TAVIE-Skin.

A prospective non interventional study on targeted therapy for patients with unresectable or metastatic BRAFV600E mutant melanoma (TAVIE-Skin)
Hide study title
How is
the study conducted?
TAVIE-Skin is a prospective, longitudinal, observational study, conducted in Europe. At least, 400 adult patients with metastatic unresectable melanoma will be included in the study.
No specific medical procedures or in-person clinical visits beyond routine care will be required for this study.
The schema summarizes the study process: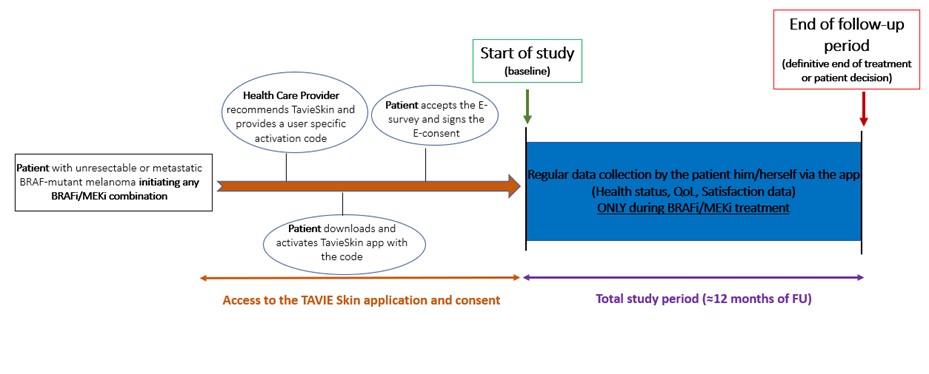 Who can
take part in the trial ?
To be part of the study, participant must fulfill several conditions including the following:
• Male or female patient, age ≥ 18 years at diagnosis of unresectable or metastatic melanoma. Diagnosis of histologically or cytologically confirmed BRAF-mutant melanoma.
• Patient having an ongoing prescription of one of the three commercially available BRAFi/MEKi combination therapy, at any line of treatment (encorafenib/binimetinib or dabrafenib/trametinib or vemurafenib/cobimetinib).
• Patients who signed the e-consent and accepted to use TAVIE-Skin app
What are
the objectives of the trial and how are they evaluated ?
primary objective of the study is to describe demographic and clinical characteristics of patients with unresectable or metastatic BRAF-mutant melanoma treated with targeted therapy (BRAFi/MEKi) and using the TAVIE-Skin app by collecting data such as age, gender, comorbidities, date of initial diagnosis.
The secondary objectives of TAVIE-Skin are to:
• Assess patients' Quality of Life (QoL) through questionnaires completed using TAVIE-Skin app.
• Assess use of TAVIE-Skin app.
• Assess activity impairment during treatment.
• Assess patient satisfaction toward TAVIE-Skin app.
• Assess treatment adherence and satisfaction toward treatment.
Results
Study primary results :